Coincidentally, my teammate Tom and I both planned driving trips to the Canadian Maritimes one week apart. So we thought we'd combine our reviews. Tom went on a 4 night trip to Cape Breton and Halifax and ferried on the Nova Star cruise ship. I went for 9 nights to Bar Harbor and Portland Maine, New Brunswick, PEI and Nova Scotia - and also did the Nova Star Cruise. Our trips took place the last week of June and the first two weeks of July. The goal for Tom and his wife was to track down ancestry in Cape Breton, and the goal for me, my sister and 24 year old niece was to eat lobster and have fancy cocktails every day! We both succeeded in our missions and would recommend similar trips for anyone who loves the waterfront - its vistas, cuisine, water activity and the interesting lives of the friendly people who live there.
Following are the highlights, lodging and restaurants –
Bar Harbor, Maine – Gail went here first and we were sorry we only had one night – it's a charming and vibrant little waterfront town at the foot of Cadillac Mountain in the Acadia National Park. In addition to great hiking opportunities, there's an easy mountain road to the main lookout - an area of large, smooth glacial boulders providing plenty of space for people to climb and walk around and take in the views.

Ivy Manor, a small Tudor style inn right in the heart of town on Main Street. Run by very welcoming John and Christine Poole who purchased it two years ago – this 8-room inn was originally a single family house in the 1940s – it's very pleasing to stay in a cozy dwelling with unique rooms and Victorian furnishings, and with lively Bar Harbor right outside. Christine prepares delicious breakfasts (included with room) and the inn has a very nice, highly regarded restaurant.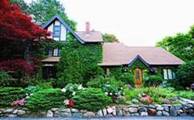 Ivy Manor Inn, Bar Harbor, Maine

Cherrystones – having just arrived from the 4+ hour drive from Boston and checked in, we were desperate for food and drink, so went in to the first place we saw - the corner open-air deck bar of Cherrystones – across the street from our inn. We were thoroughly and pleasantly surprised with the delicious sautéed clams and with Cosmos made with fresh lime juice.

Michelle's Restaurant and Lounge – this is Ivy Manor's restaurant and bar – at dinner we had lovely outdoor seating on their densely and beautifully gardened stone patio watching the town activity. The food choices were varied and well balanced with tasty local vegetables. Our server was excellent and handled both the outdoor and indoor tables with ease.

Shopping - a shopper at heart, Bar Harbor is exactly what I love – the main street of this adorable town is lined with beautiful little shops showing off their particular seaside wares.
St Andrews, New Brunswick – good size seaside town with whale watching and a wide range of nice quality local art and crafts. No whales to be seen though due to the cold winter - late July or August would be a better bet for whale sightings. Gail spent 2 nights here – lots to see, do, eat and purchase!

Rossmount Inn - a beautifully maintained 18 room 3-story manor house originating from the 1800's, about 5 minute's drive out of town - antique Victorian furnishings mixed with modern paintings and sculpture – also has the best restaurant around, a local favorite - AND they have a very pretty outdoor pool with great views.

Restaurant at Rossmount Inn – fine dining indeed and in a fine dining room – heavily wood-paneled, rich red-walled with sparkling chandelier - ingredients come from the inn's kitchen garden and other local sources – creative and delicious food.

Red Herring Pub – had lunch after a morning whale outing – located at the pier on the main street – sat outside and enjoyed fried clams and French fries and Bloody Ceasars – very pleasant.

Whale watching – Positioned on/near a number of bays and inlets, St. Andrews attracts many whale varieties - Finback (Fin), Minke, Wright, Humpback and occasionally the beautiful small white Beluga whale. We went out twice – once with 8 people on a small zodiac (Fundy Tide Runners) and once on a larger boat (Island Quest) holding about 20 passengers and 2 marine biologists. No whales (or puffins) spotted but great stories of a local Minke that breaches incessantly – like 40 times in a row. And the pilot of the zodiac showed us a remarkable video of an underwater interaction he had with a Beluga whale over several days while he was doing diving work on a salmon farm – the whale came up to other side of the salmon net, touched his snout to the diver's mask as if a friendly greeting, then came over and appeared to smile at the camera held by a second diver outside the net – if you do a whale watching trip with them (which I do recommend), ask to see the video.

Shopping – we were lucky to be there on a Wednesday morning when there is a craft market as well as food stalls at the pier. Our favorite artist, Allana Baird, had a table there – she creates beautiful sculptures – mostly fish – out of tin can lids. The bright green ones are from a particular kind of cat food can -- local cat owners save them for her. Some of her larger pieces decorate the Rossmount Inn – including a most attractive avant-garde life-sized mermaid with great tangles of steel hair welcoming you inside the main door.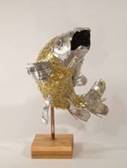 Allana Baird fish sculpture

Minister's Island – only accessible during low tide when you simply drive right from town about 4 minutes across the seabed floor, this 500-acre island is a perfect outing for a few hours (about 5 hours before the tide returns) – it satisfies both nature seekers and historic house enthusiasts – This was Sir William Van Horne's private island where he built his summer home, an expansive Shingle style mansion he called Coven Hoven. American born, Sir William was the second president of the Canadian Pacific Railway – getting the line completed in half the time predicted – 4 years instead of 8. The lavish house furnishings are an interesting mix of original pieces and other similar period pieces as the property went through a few hands since the Van Horne's and their furniture was auctioned off – but many original pieces were returned after its opening as a historic site. The bathhouse/painting studio and barn are equally interesting. The guided tour fills in the story of Van Horne's impressive accomplishments. An indication of Van Horne's extreme work ethic (he personally thought sleep was a waste of time) is the story of the windows in the barn – he moved them higher when he saw a worker gazing out of one…
Lots of walking trails – some are original carriage trails - water vistas - great bird watching… – this is a must-visit if you go to St. Andrews.

Mansion and bath house at Coven Hoven – Minister's Island
PEI – Prince Edward Island – the native Mi'kmaq name of this island is 'Abegweit' translated as Cradle on the Waves – this small cradle-shaped island between New Brunswick and the northeastern tip of Nova Scotia, is connected to the mainland only by a (very) long bridge and a couple of ferries. Charlottetown, the historic town located on the south coast, its heyday was in the shipbuilding era and had political influence in the formation of the Canadian Confederation. With soil high in iron-oxide, potatoes thrive and are a major export off the island (producing 25% of Canada's crop) – the stunning red-soiled farm views are most picturesque as you drive along the island to Charlottetown after arriving off the bridge. We were on the island for 3 nights – 2 in Charlottetown, then one on the Brudnell River on the eastern shoreline. PEI was our lobster pinnacle destination – many lobster restaurants in town and the island is known for all you can eat lobster dinner cookouts. We quickly became happily satiated and sadly ran out of steam for the lobster cookout. Didn't have enough time this trip to explore the island properly - lots of waterfront to cover– an ocean-side cottage for a week sounds appealing.…

Delta Prince Edward – Charlottetown - Delta is a Canadian chain. The Prince Edward is an 8 story red brick building in the center of town - modern with stylish, pleasant décor - comfortable, functional and large rooms. Well located near the harbor and the town area.


Walking food tour – got a lot of history but not much food! – Last stop was Dave's Lobster where we stayed for lunch because we were still hungry...plus the lobster taco we had just sampled was delicious. We also visited the Gahan brewery and pub – very tasty beer. A knockout on the tour was the Chip Shack - a small stand next to the Hippo tour bus/boat on the harbor front – The owner, self-declared Queen of Fries, has a marvelous personality and does in fact make the best French fries in the world (at least as far as my world is concerned).
Pedicab – fun way to tour the town – terrain is flat so our peddler/guide says it's not that hard to pull a full cab – three of us not small women – once you get over that concern, it's a great way to get a close up tour by a knowledgeable historian with strong legs!

Sunset cruise – Peakes Wharf Boat Cruises – pleasant wooden tour boat (adapted lobster fishing boat) with charming young second mate who manned the small bar and pointed out the sights. Holds up to 35 passengers, has a covered deck with wide, open-air windows. Great way to see the harbor. The day cruise hauls in a lobster trap.

Corner of Water and Prince - this is where to get your lobster (and delicious fried oysters) – a funky little corner restaurant that's packed by noon – lunch reservations recommended. This restaurant has history, as attested by the walls – covered with photos, license plates and a large reclining mermaid image who looks like Cher. The service is very local and engaged – teaching my niece how to teethe the meat out of the legs. And this is the place to settle the lobster debate that PEI poses – to eat the steamed lobster hot (traditional New England approach) - or cold (the PEI way) -- both are served with drawn butter. The restaurant serves it both ways – and both were delicious!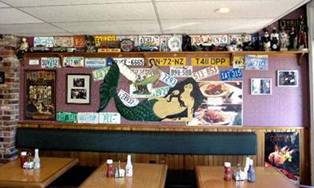 Corner of Water and Prince Restaurant

Terre Rouge – our PEI fine dining experience – a bistro on Queen St. – menu includes the likes of roasted bone marrow with parsley caper salad, duck fat toast, and shallot marmalade (sold out of that, to my sister's disappointment). Sharp décor -- red walls with elegant black chairs -- unassuming and pleasant service – casual ambience - excellent creations from the bar - would definitely repeat.

Rodd Brudnell – East Coast of PEI - as a nod to my niece, we went to this golf/river resort to do something physical - horseback riding, kayaking and paddle boarding are available adjacent to the resort. In addition to the main building, it has nice cottages along the river making it a good family spot, especially if you like golf. The dining room was so-so – better to go to Clamdiggers in Georgetown, for dinner. The resort location was perfect for positioning for the Wood Islands ferry over to Halifax the next morning - a pleasant 1 hour-ish ride with good cafeteria-style food.
Nova Scotia – Tom spent 1 night in New Glasgow, 2 Nights in Halifax and 1 night in Yarmouth. – Gail arrived Halifax by car ferry from PEI – stayed 1 night, then 1 night at Yarmouth.
Cape Breton Island – Tom visited Cape Breton to do some family research and met some distant cousins he never knew about! Best known for its spectacular drive along the Cabot Trail, Cape Breton is also ideal for hiking, golf and water sports.
Halifax – what a great city! The boardwalk that spans the full length of the harbor is very lively - an array of Clipper style ships and other harbor tour boats along with a couple of massive personal yachts add to the harbor view - plenty of food venues – we caught the last day of the outdoor Jazz Festival. If you happen to be in Halifax during the first week of July, the Royal Nova Scotia International Tattoo is a must see event!

Hollis Radisson – (Gail stayed here) beautiful room with a harbor view through the bedroom window and from the floor to ceiling window in the shower! - comes with venation blinds… Our junior suite felt like an apartment with a kitchenette and pull-out sofa bed in separate area – very sleek with chrome appliances. Located in Downtown Halifax, just a few blocks from the harbor.

Four Points by Sheraton – (Tom stayed here) Located on Hollis Street, this is a newly renovated hotel, extremely clean with free Wi-Fi and just 2 blocks from the waterfront.

Durty Nellies and The Old Triangle are Irish Pubs in Halifax with excellent food, live entertainment and friendly, helpful staff.

The Gahan House – on the north end of the boardwalk – ate outdoors on their large boardwalk size deck – enjoyed great beer samplers with our mussels, nachos, fish cakes and more – and enjoyed the harbor view. This is a spin-off of the Gahan brewery based in Charlottetown, PEI – it was a pleasant stop on our food tour there and where we got the tip to eat at their new restaurant here in Halifax.
Peggy's Cove –

a picturesque little fishing village about a 45 minute drive Southwest of Halifax. There are lots of great photo opportunities and the lighthouse at Peggy's Cove is the most famous and most photographed lighthouse in Nova Scotia. Beautiful striated glacial rocks cover a large expanse.

Lighthouse at Peggy's Cove – shot by Tom
Lunenburg – this is the classic seaside village you see in the brochures – with sailboats in the harbor, a hillside town sloping down to the water with colorful houses and waterfront buildings –the town is about an hour south of Halifax, enroute to Yarmouth, the jumping off point for the Nova Star cruise to Portland, Maine. So it makes the perfect lunch stop on your way. No need to rush to Yarmouth.

Lunenburg, Nova Scotia

Old Fish Factory – housed in the dramatic red building on the water, shared with a small maritime museum which provides a charming entrance (to view museum pieces, you need a ticket, so don't just stroll in to the exhibit area) - the restaurant has a large outdoor deck along the water. Delicious seafood cuisine in a relaxing picture-perfect setting.
Yarmouth – it's necessary to stay here overnight in order to be at the ferry dock around 7amish. This city has a fishing history – not much for tourists here.

Gail stayed at the Rodd Grand Yarmouth – not a great choice – a general run-down feeling. I see there is a Westin in Yarmouth …

Tom stayed at Comfort Inn – typical Comfort Inn style, clean and friendly staff. This hotel only has two stories but no elevators so ask for first floor room if you have trouble with stairs.

A side trip to see the Cape Forchu Lighthouse was worth the 20-minute drive from the hotel. The vertical red stripe is distinctive. If you're lucky (i.e. not fogged in like Gail was), you'll see the lighthouse when departing or arriving on the Nova Star Cruise ship – request starboard side cabin departing Yarmouth and port side if arriving.

Cape Forchu Lighthouse – photo by Tom

Nova Star Cruise – A highlight of both of our trips was the Nova Star cruise. It's a cruise ship/ferry that travels between Nova Scotia and Maine (Yarmouth and Portland). We both took the 10 hour day crossing from Yarmouth to Portland – they serve a buffet style lunch. The other direction does an overnight cruise with a fine dining dinner restaurant (sometimes open on lunch cruise in high season). This is a great way to take some driving out of the road trip - and enjoy some fun, food and relaxation along the way – like any cruise, there is plenty of social opportunity with fellow guests. This is not the old Prince of Fundy or fast cat ferry that have gone before – Nova Star is in its second year and we give it kudos for being a great product – excellent and solicitous service - very clean, well maintained, attractive ship -- well run operation -- and food and drinks were top notch – best beverage-of- the-tour award goes here - a specialty Mojito –
Checking in at the dock was fairly easy; they were well organized checking our documents and directing us to one of several marked lanes to await driving on board. They started loading the vehicles about 45 minutes prior to departure and this went very smoothly.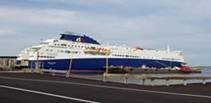 Nova Star – photo by Tom
Cabins on the cruise are optional and we did reserve one. The cabins are relatively small but it was good to have a private space to lock up our carry-on bag and have a place to lie down for a nap. There is also a shower in each cabin. There were many activities on board - a casino, 2 movies, a checkers tournament, bingo, wine tasting, musical performers and several bars – between the two of us we did almost all of them – and Gail hit the gift shop hard – am a sucker for linen dishtowels (they had organic cotton ones!) and SeaBags of Maine sailcloth pouches… The food at the lunch buffet was good and tasty but they could have offered a wider selection of foods. Some of the bars also offer prepackaged sandwiches for a quick bite if you want something light.

Recommend the Green Tea Mojito – made by bartender, Dimiter, with a flair (tossing ice cubes over his head and catching them in the shaker behind his back) – perfect Mojito.
Portland, Maine – a bustling city, upscale trendy shops in beautiful old red brick architecture, adjacent to thriving commercial fish piers, and historic buildings -- birthplace of Longfellow. They know how to do food here – and drinks. Fantastic walking city.

Holiday Inn By the Bay – very friendly staff and quite nice accommodations – bright, pleasant rooms with harbor views – walkable to downtown and shuttle van available as needed.

Hugo's – This is a most unusual restaurant. A tasting restaurant where the courses are a selection of small samples of interesting and delicious food combinations – Maine Halibut cooked with oyster emulsion, smoked pork and pickled corn. The service and atmosphere are impeccable with everyone knowing exactly what's in every dish. And for after-dinner drinks, when we ordered a mundane Monte Cristo (definitely not on the menu) the bar tender rose to the occasion (quite literally as she had to climb a library-style ladder to get to the top shelf for the infrequently used Kahlua and Grand Mariner) – then she whipped up a perfect one…hand whipping real crème of course. This is an eating adventure.


Walking Food Tour -- no problem getting enough food on this morning tour through numerous parts of Portland – good workout too – 10 stops! Started at a spice shop where they served us mead (yes,the medieval beverage) and mac and cheese with special spice, then a fish market on the harbor, and the landmark pub next door where the owner shared photos of his staff's great lobster catches over the years – from man-size lobsters to bright blue and multi-colored ones. Next stop a great specialty food shop with delicious cheese sampling (and time to buy some). At a local brewery, we were lucky to have a back room tour by the owner before a beer tasting. Another stop served upscale vegetarian fare and organic meat – then we topped things off at a chocolate shop. Definitely recommend.
In hindsight, what would we have done differently or do again next time? Gail would have slowed down the pace with more 2-night and fewer 1-night stays. Reverse the order and start at Portland in order to do the overnight Nova Star cruise – then on arrival Yarmouth, continue to Lunenburg for lunch before going to Halifax to settle in for a couple of nights. On the return trip, take 2 nights at Lunenburg and end with 2 nights at Bar Harbor. Tom is a super Halifax fan so he'd repeat that for sure, and take the reverse cruise and stop at Lunenburg as well -- And maybe drive the dramatic sheer cliff roads of Cape Breton!
Gail Strand and Tom Young
Feel free to contact us if you have any questions or want more information - or want to plan a tour following in our footsteps – or in this case, tire tracks..
Categories Canada, Vacation, Maritimes
Tags Sightseeing, Shopping, Dining, Ferry