I just returned from a visit to LA and the Getty Museum.
The museum sits on a hilltop on the west side of the city, just off the San Diego Freeway (the I-405). It offers spectacular views of the Santa Monica Mountains, the Pacific Ocean and Los Angeles. It incorporates the modern design of architect Richard Meier with beautiful gardens and generous open space.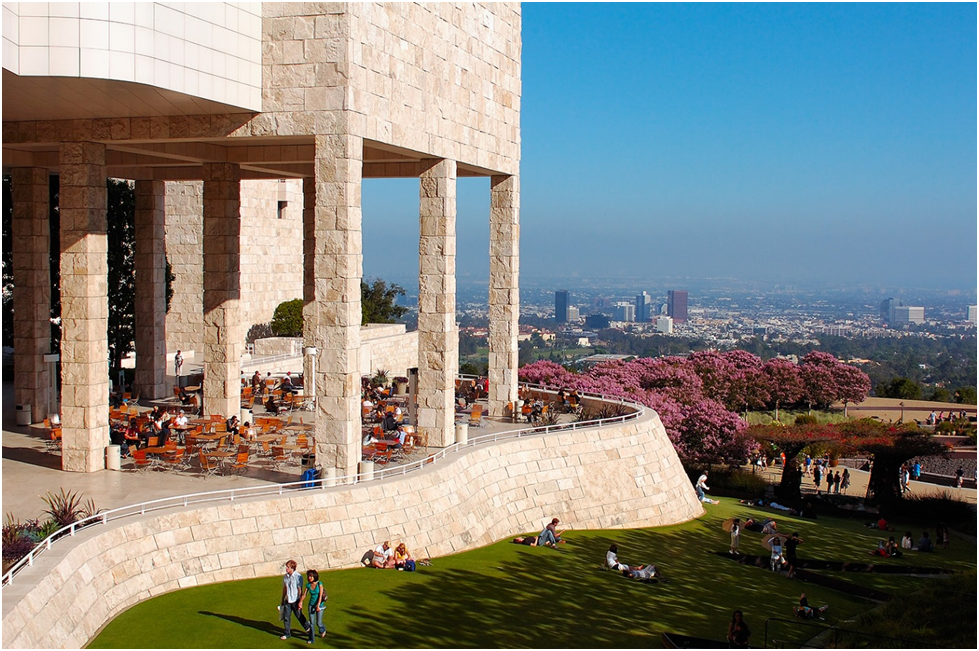 One of the restaurants
To reach the hilltop area where the museum is located requires a 10-minute tram ride from the garage where you leave your car. While admission to the museum is free, parking is $15.00 per vehicle. Parking is first come/first served. Call ahead for alternate parking solutions on busy weekends.
The collection, changing exhibitions and outdoor art covers European and American history - from medieval times to the present. And, the Getty also has great collections of photographs. All are housed in 5 gallery pavilions which allow visitors to walk outside from one gallery to the next. Exterior courtyard spaces include gardens, seating and picnic areas and cafes. The museum is open some evenings and concerts are often presented in the courtyard areas. Throughout the day docents are available for tours of both the galleries and the outdoor space.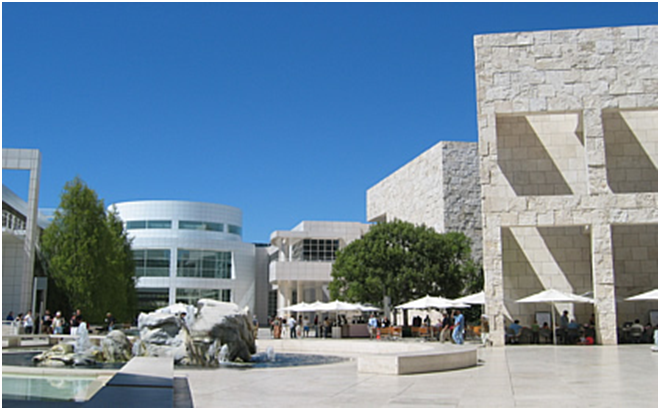 A plaza within the museum campus.
The two primary dining options are: The Cafe - self-service with more casual fare, and The Restaurant, an elegant setting offering an eclectic menu and full-service dining for both lunch and dinner. Reservations are strongly recommended. P.S. - The views are spectacular!
Details about what's happening at the Getty can be found at www.getty.edu/museum (note: the museum is closed on Monday).
If you have any free time built in to your next visit to LA and its environs, I highly recommend a visit to the Getty.
Don't miss it!
Categories Vacation experiences, Domestic
Tags california, los angeles, art, history, food