This post originally appeared in Ed McCourt's blog, Travel Perspectives. Reposted with permissions.
It had been nearly 4-decades since I'd visited Norway. Earlier this fall, I returned to this part of Scandinavia, getting to go well beyond Oslo and Bergen. Like other destinations, Norway has changed significantly since the mid '70's. Nevertheless it continues to enthrall those who seek natural wonder, unique cultural experiences and opportunities to be physically engaged.
The centerpiece of this visit was a 7-day cruise aboard the MS Trollfjord of the Hurtigruten line. Along with 8-other American travel counselors and a line sales manager, we embarked in Bergen and sailed north along the coast crossing the Arctic Circle on the third-day. After visiting Europe's northernmost point, Nordkapp/North Cape, we arrived at the Barents Sea port of Kirkenes and just six-miles from the Russian frontier.
North bound itinerary from Bergen to Kirkenes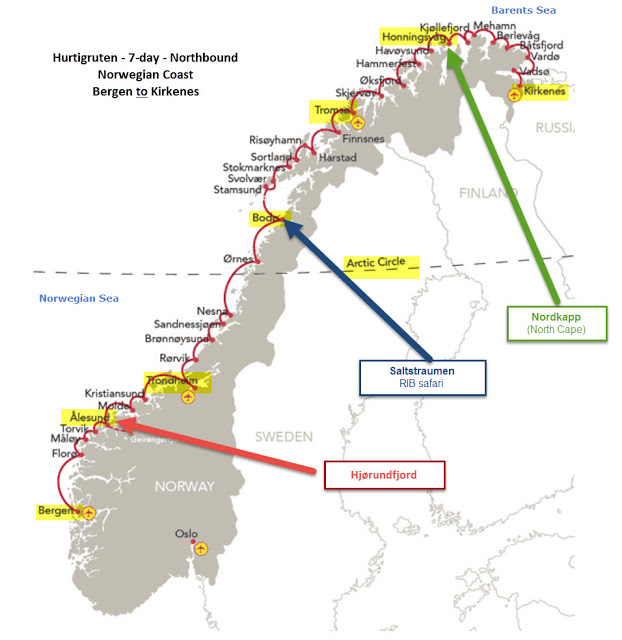 Needless to say, there was nothing ordinary about this itinerary. Early on we made a passage through the wild Hjørundfjord. The route took us by majestic mountains (the SunnmØre Alps) and eventually, into a peaceful cove in front of the pastoral village of Øye. Tendered in, we hiked up hills that overlooked the idyllic setting. Upon return we ate lunch of (surprisingly) delicious goat stew and cow-berries with cream at the historic Hotel Union Øye. At the end of 1800s Europe's royalty (e.g. Kaiser Wilhelm II) and its upper classes frequented the hotel which has recently been restored to its former grandeur.
MS Trollfjord is anchored to my right in distant background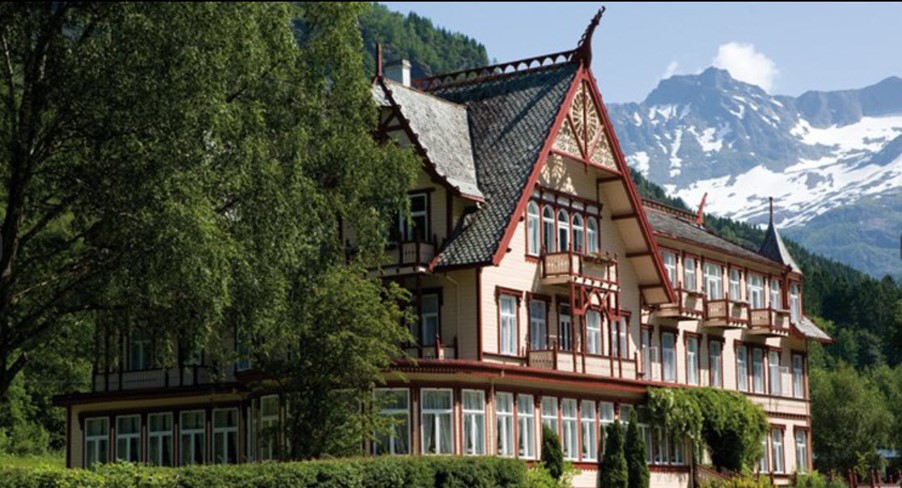 Hotel Union Øye
Exiting the Hjørundfjord, we docked at Ålesund where I joined several other passengers for a climb up the famous 418-steps staircase leading to the summit of Mount Aksla right in the center of the city. From here, we were rewarded with a splendid view of Ålesund and the surrounding mountains and islands.
Ålesund from atop Mt. Aksla
Further up the coast we visited Norway's third city, Trondheim. Its major attraction is the Nidaros Cathedral, the largest and northernmost medieval cathedral in Scandinavia. Its construction began in the 12th century rising up from the burial site of Norway's patron saint, St., Olav, the Norwegian Viking King.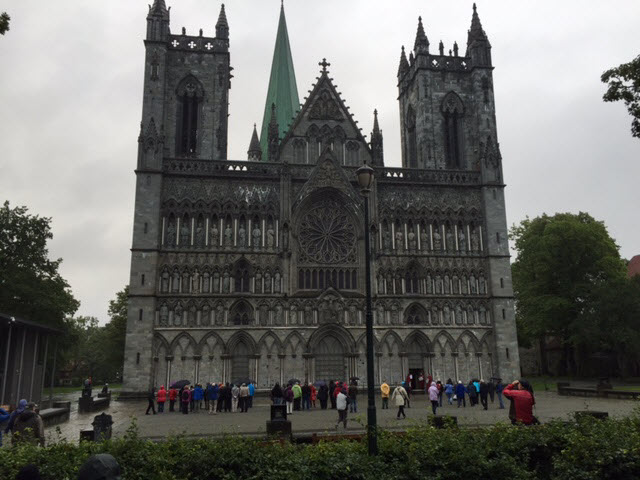 Trondheim's Nidaros Cathedral on a showery Sunday morning
During the morning that we crossed the Arctic Circle, several passengers were awarded Hurtigruten's Polarsirkel Sertificat (a.k.a. Certificate of the Arctic Circle).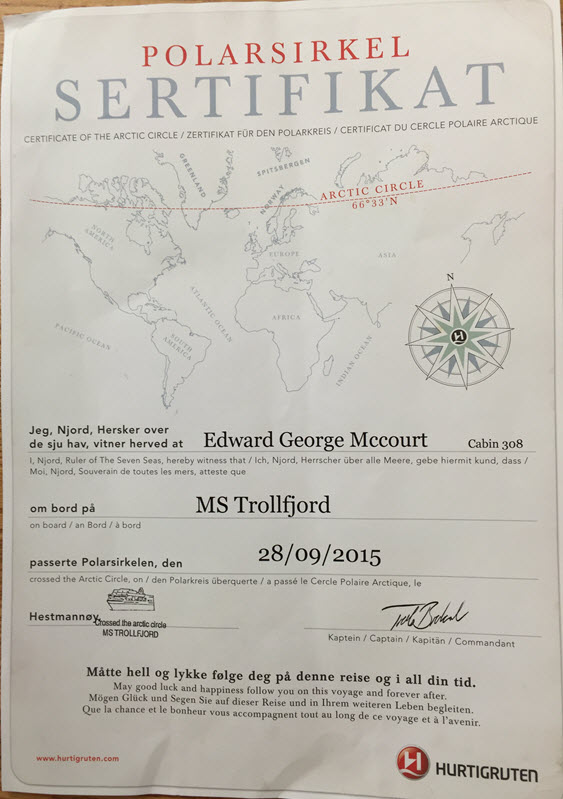 In recognition, each candidate was doused with ice water and encouraged to down a glass of aquavit. To insure the authenticity of the rites, King Neptune was on hand.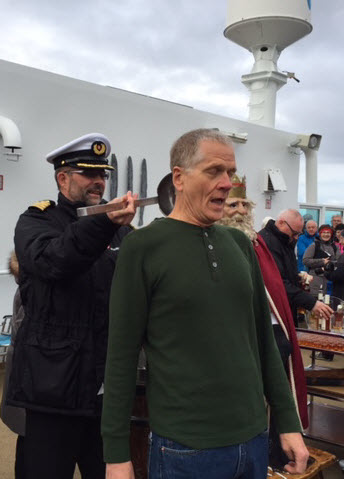 Neptune was overseeing in the background to my right!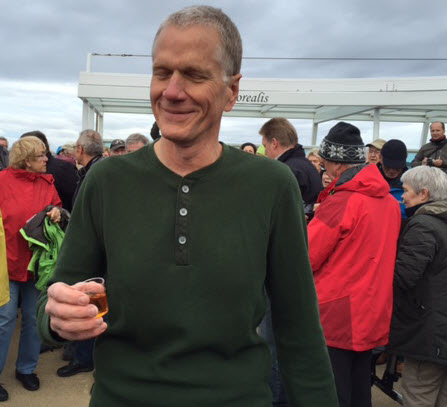 I concluded that aquavit is an acquired taste.
Following the Circle crossing, and, after docking at Bodø, several of us suited up and boarded a rigid-inflatable boat or RIB (to my left below) for a safari to the near-by Saltstraumen. This stretch of water is a narrow channel connecting two fjords. It's reported to experiences the strongest tidal current in the world. The special RIB watercraft allowed us to safely enter the maelstroms created by the coming together of the waters of both fjords.
This is a link to a YouTube presentation that captures a RIB voyage through the Saltstraumen. Captions are in English and Russian. I regret the pop-ups and ads, but this was the best video presentation that I could find.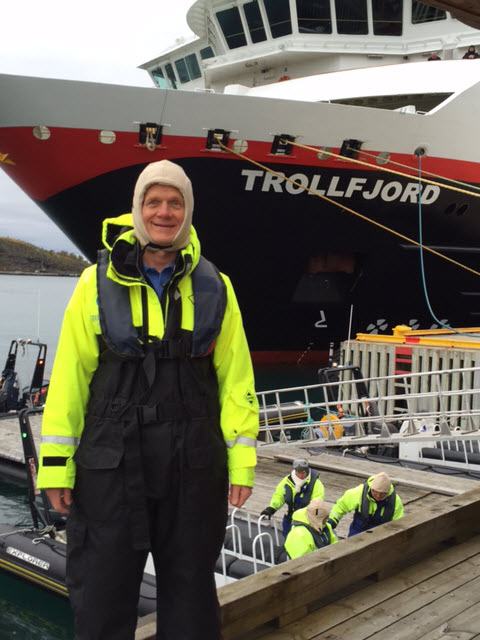 Saltstraumen is also noted for its white-tailed or sea eagle. World-wide, Norway is home to about 20% of this species. In size, the sea eagle is comparable to the bald eagle. On our RIB safari we saw three or four of these impressive birds. Unfortunately they were perched atop buoys or on crags. None was in dramatic flight as pictured below.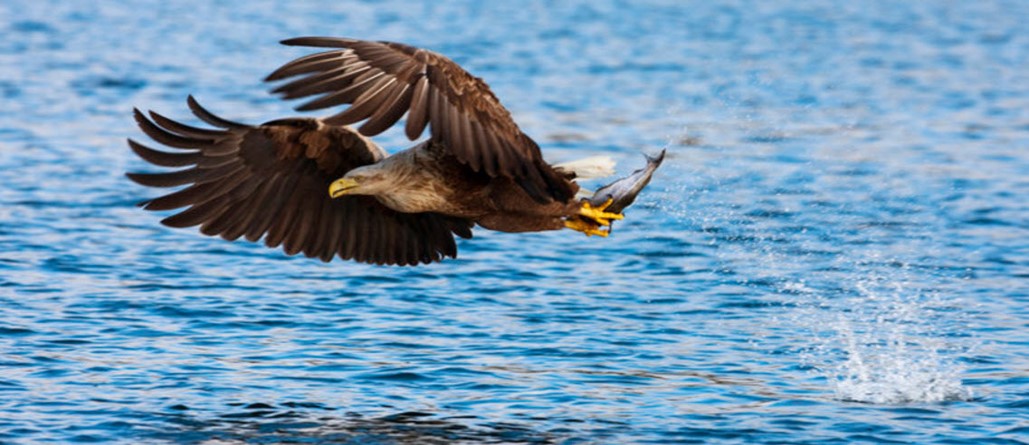 (courtesy of the Northern Norway Tourist Board)
Late in our sailing we visited Tromsø with its impressive Arctic Cathedral. I accessed the edifice by walking across the Tromsø Bridge, a span of two-thirds of a mile that connects both parts of the city. The walk was invigorating! On the way back, I stopped at the city's very unique Polarmuseet (Polar Museum). This compact but cozy museum is filled with exhibits that bring to life Norway's very prominent role in Arctic exploration.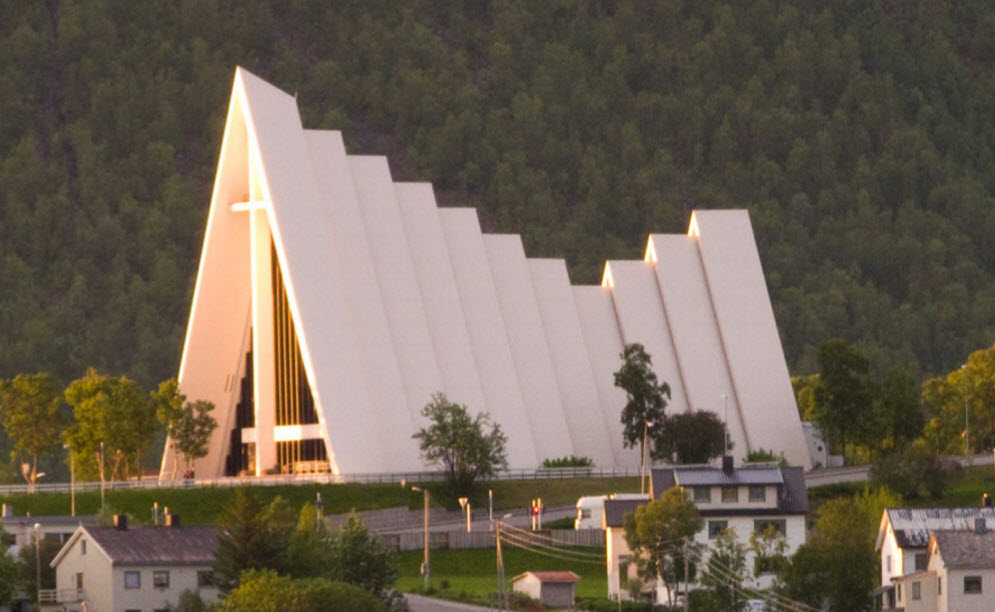 Tromsø Cathedral (in summer!)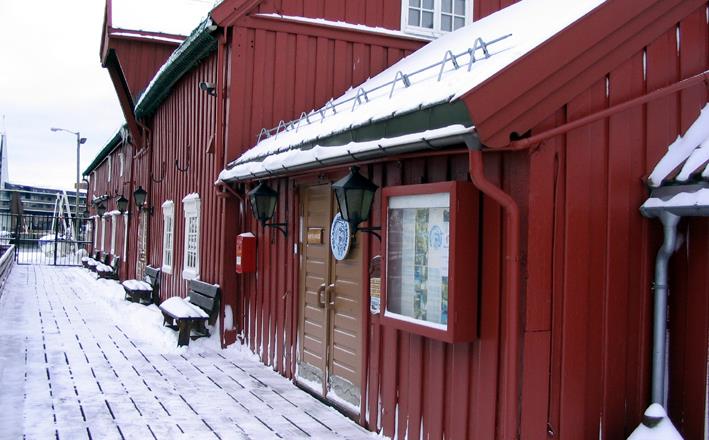 Tromsø Polar Museum (as it appears much of the year!)
The following day, we sailed into Honningsvåg, the closest port to the Nordkapp (North Cape). The ride to the Nordkapp is along the northernmost road in the European system. Nordkapp is at 71ᴼ 10' and 1300-miles from the North Pole (by comparison, Point Barrow AK is at 71ᴼ 23' and 1122 miles from the Pole). Nordkapp -- most accessible to tourists between mid-May and late August and at increasingly limited access between late fall and most of spring -- overlooks the Arctic Ocean from a 3000 foot promontory. Its most famous symbol is the Globe Monument (pictured below). There is an excellent visitors' center at Nordkapp that provides a great audio-visual presentation, a peace chapel and exhibits. We visited Nordkapp on September 30, but fierce winds and snow squalls made it feel more like January in Boston!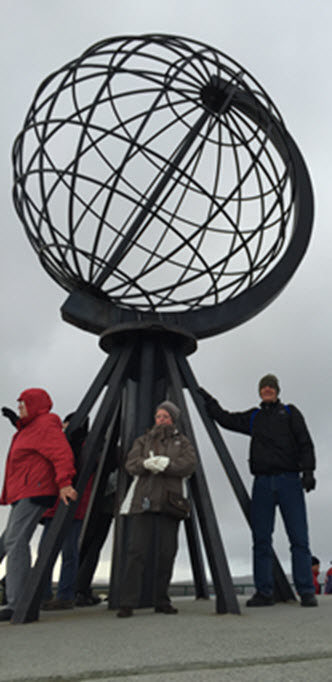 Nordkapp - Globe Monument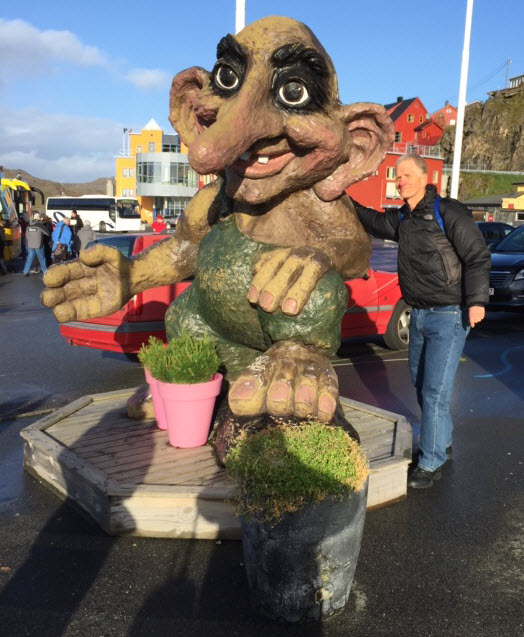 At Honningsvåg -- Trolls are everywhere in Norway!
A bit more about the Hurtigruten experience ...
Of course, the Norwegian Coastal Voyage aboard Hurtigruten's (14-thousand ton) MS Trollfjord was a major part of this Scandinavian itinerary. The Trollfjord and her 11-sister ships – continually plying the waters of the Norwegian coast, visiting 32-ports in 12-days (round-trip) – serve a dual purpose. They provide the locals with postal, small cargo and ferry services along a coast characterized by fjords and mountains on the shoreline (beautiful, but largely inaccessible except by water). For guests, like us, the itineraries are a visually rich vehicle for immersion into Norway's landscapes, outdoor activities, food, beverage and cultural heritage.
The range of shore excursions on Norway Coastal voyages varies depending on season. For example, in summer, mountain biking, birding, kayaking, horseback riding and midnight sun activities abound. In winter, dog sledding, snowmobiling, wilderness camping and, weather permitting, Northern Lights viewing are options.
Hurtigrtuen accommodations are simple, clean and comfortable. English is spoken on board (as it is just about everywhere else in Scandinavia). Most of the food is locally provisioned, making for memorable fish and vegetable offerings. The breads, cheeses and desserts were also super. There is neither gambling nor organized nightlife on board.
Given the activity level of the typical Hurtigruten guest aboard Norwegian Coastal Itinerary, bed times come early, anyway.
As for Bergen and Oslo ...
Before the Trollfjord voyage, I spent a day in Bergen. Post cruise, I had 36-hours in Norway's capital, Oslo. Both are excellent cities for tourists. Bergen, with its Hansaeatic vestiges is very walkable and picturesque. Oslo, a pedestrian friendly city, has a great public transportation system and lots of things to do close-in.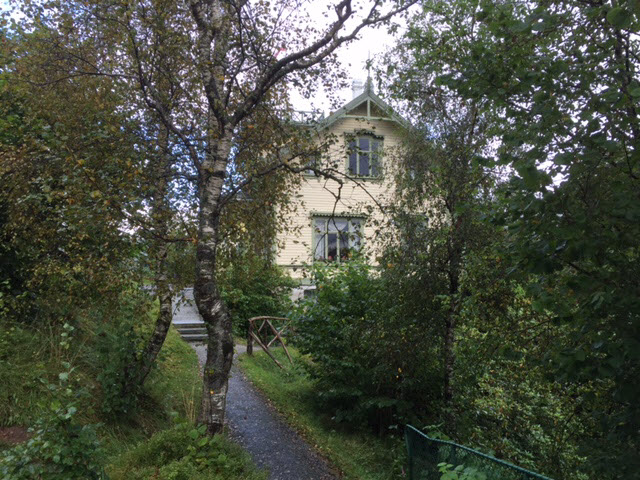 The Bergen highlight for me was a trip out to Troldhaugen, the home (above) of, perhaps, Norway's most famous composer, Edvard Grieg. Admission here included a lunch concert with Norwegian pianist Torleif Torgersen.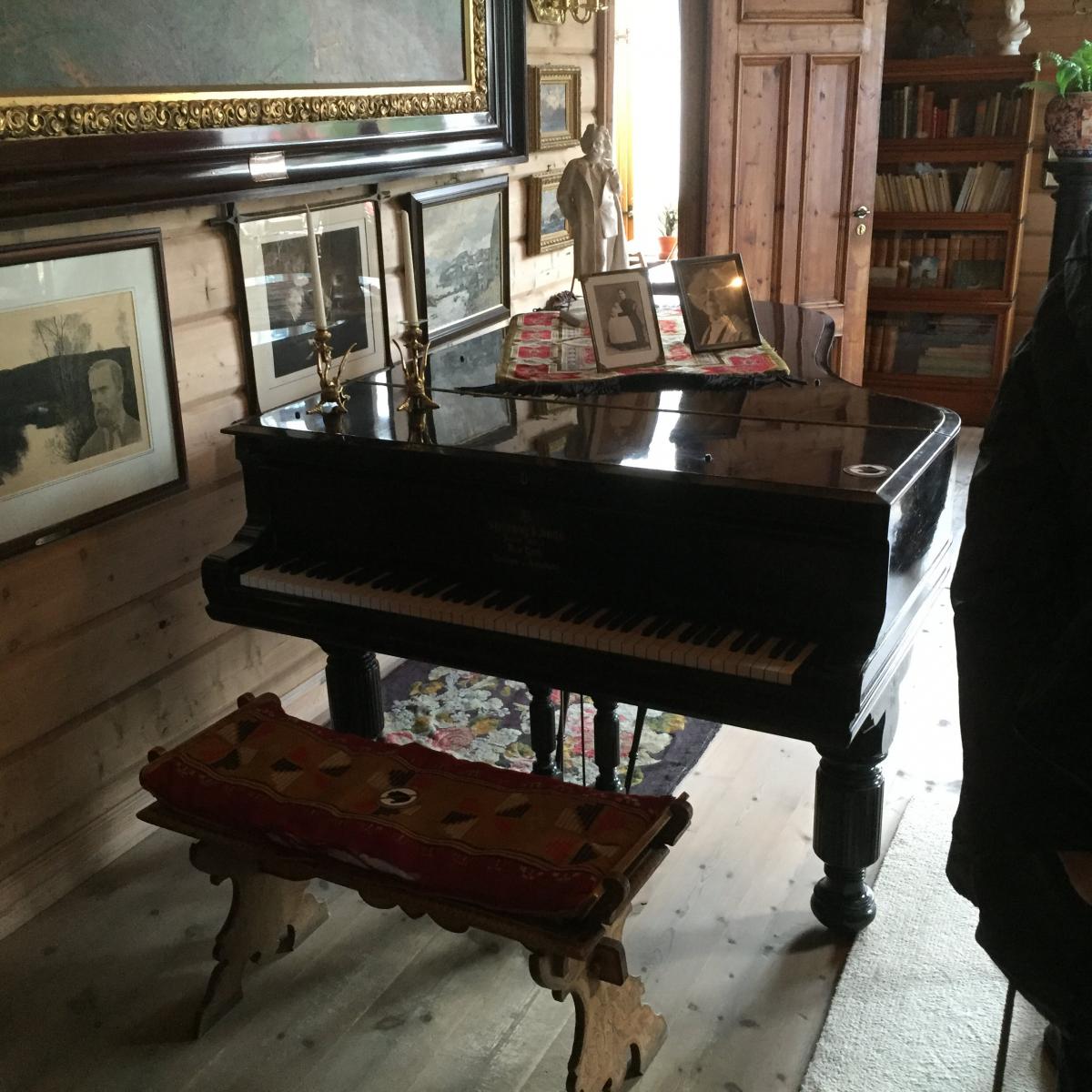 Among the Grieg artifacts
On October 2, 2015 in Oslo, the country's parliament, the Stortinget, was being opened. I witnessed the arrival of the nation's king and queen (Harald V and Sonja). I was amused to see that they were driven in a 1960's era Lincoln Continental convertible with its top-down. I also got some time to visit the National Museum, with its very impressive Edvard Munch gallery.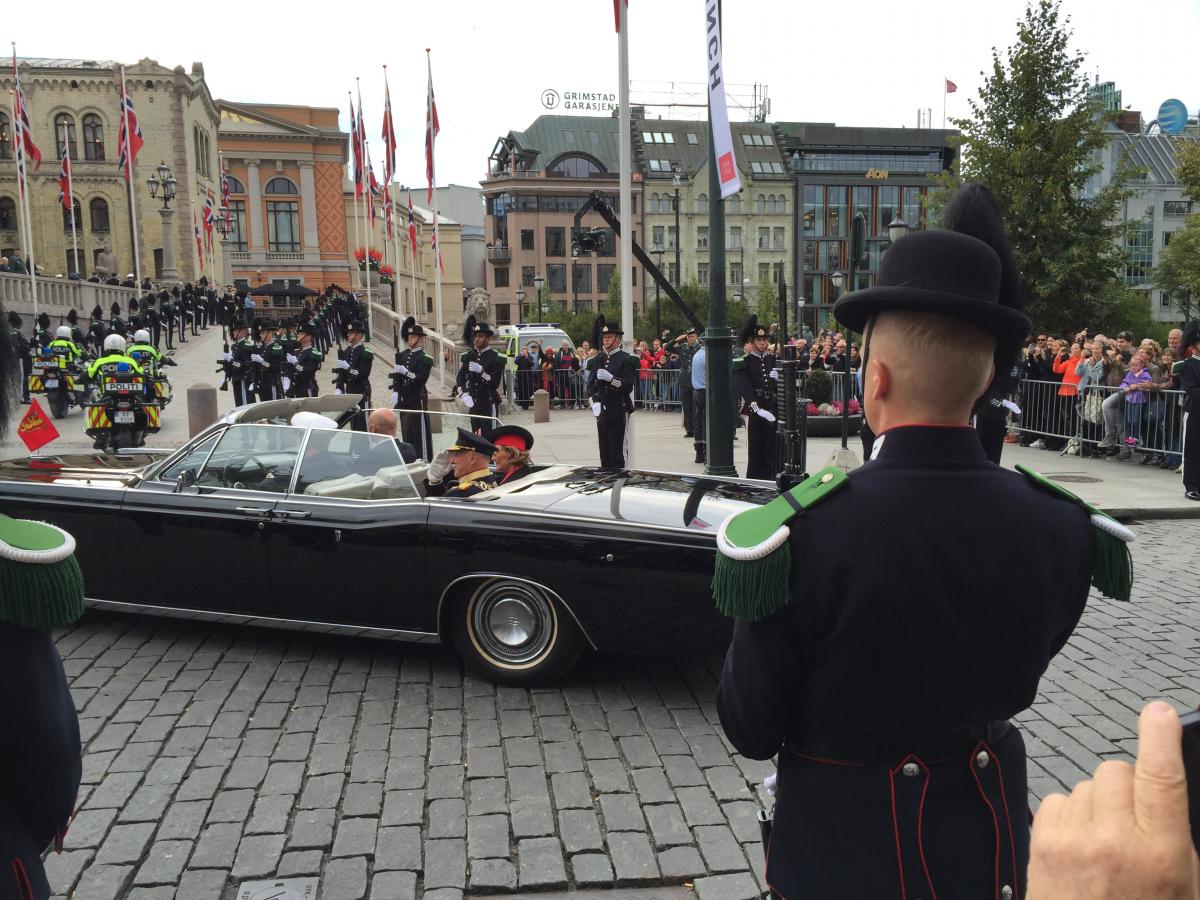 Harald And Sonja - Norway's King and Queen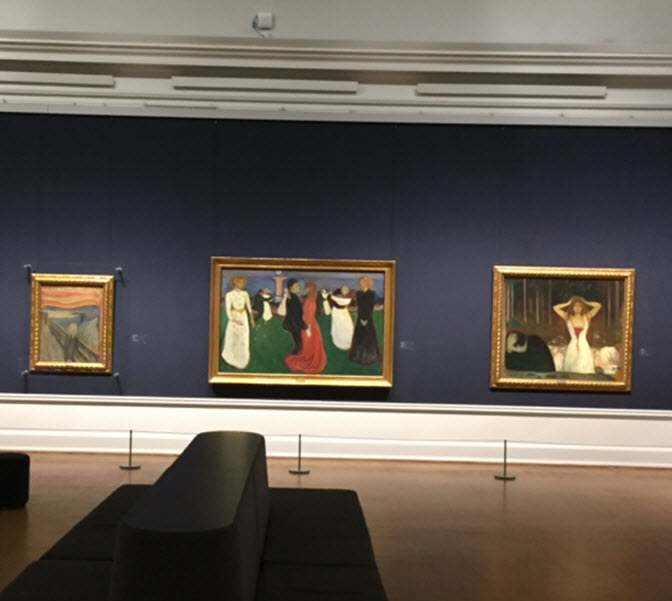 Munch room at Oslo's National Gallery
Happy trails!
Ed McCourt, CTC
Categories Vacation experiences, Europe, Scandinavia
Tags Norway, Cruise