On a recent road trip, my wife and I spent a few days in Gettysburg, PA. As you may know, the Battle of Gettysburg, fought July 1-3, 1863, was the longest and bloodiest battle of the Civil War. We explored the town and made a visit to the Gettysburg National Military Park Museum and Visitor Center (www.nps.gov/gett/index.htm) before beginning our auto tour of the battlefield. The visitor center has a large display of Civil War artifacts, including guns, ammunition, flags and uniforms. But, the highlight of the center is the Cyclorama - a 360-degree painting of the timeline of the Battle of Gettysburg, and is not to be missed!
Below is the battlefield showing where Pickett's Charge took place with Big Round Top and Little Round Top in the distance.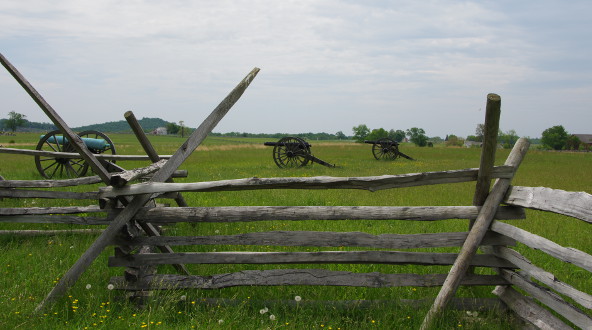 Once you begin the auto tour of the battlefield (a Guidebook and CD can be purchased at the visitor center), you will start to see the unbelievable scope of the conflict. You will pass by literally thousands of monuments dedicated to every military division of every state, North and South, who were involved in the battle. In addition to these monuments, several states erected massive monuments dedicated to all of the men and women of that state who were involved.

Virginia State monument with Robert E. Lee on Traveller.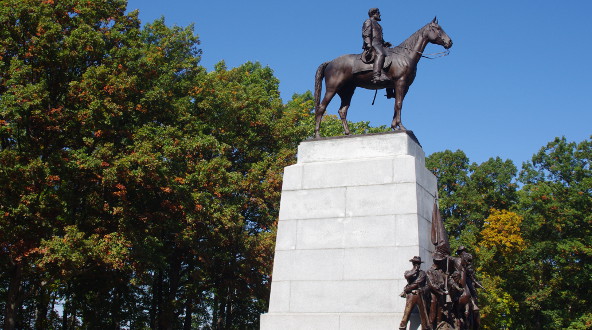 It is truly a moving experience to hear the sounds of the battle and stories of the participants as the auto tour guides you through the area. Plan to spend several hours touring the battlefield, taking time to stop and explore the different areas.

(As a side note, I would suggest watching the movie "Gettysburg" starring Jeff Daniels and Martin Sheen before your visit. It is a very entertaining film and will give you a better understanding of the scope of the events and familiarize you with different aspects of the battle.)

Once the sun goes down, Gettysburg can get very interesting! Gettysburg is considered one of the most haunted places in the United States. Joining one of the several Ghost Walks offered around downtown Gettysburg will be a highlight of your visit. They are full of history and interesting facts. Be sure to bring your camera too! As your tour guide points out some of the haunted buildings in town, taking pictures using your flash, can yield you some unseen extras in your photographs!

If you are lucky, you may have captured an orb or two in a few of your pictures. Orbs usually appear as transparent or solid circles on the photograph and in the paranormal community are widely believed to be spirits or ghosts!

For the really brave, a drive through the battlefields at night is part of the fun. Again, bring your camera and take random pictures of the battlefield and it is likely more orbs will show up on your pictures. The best places to take these photographs are the darkest areas with the least amount of other people around.

I hope that some of you will be inspired enough to consider a visit to Gettysburg, and will enjoy it as much as we did
Categories Vacation experiences
Tags US History